Grubbs Family Of Dealerships History In Dallas, TX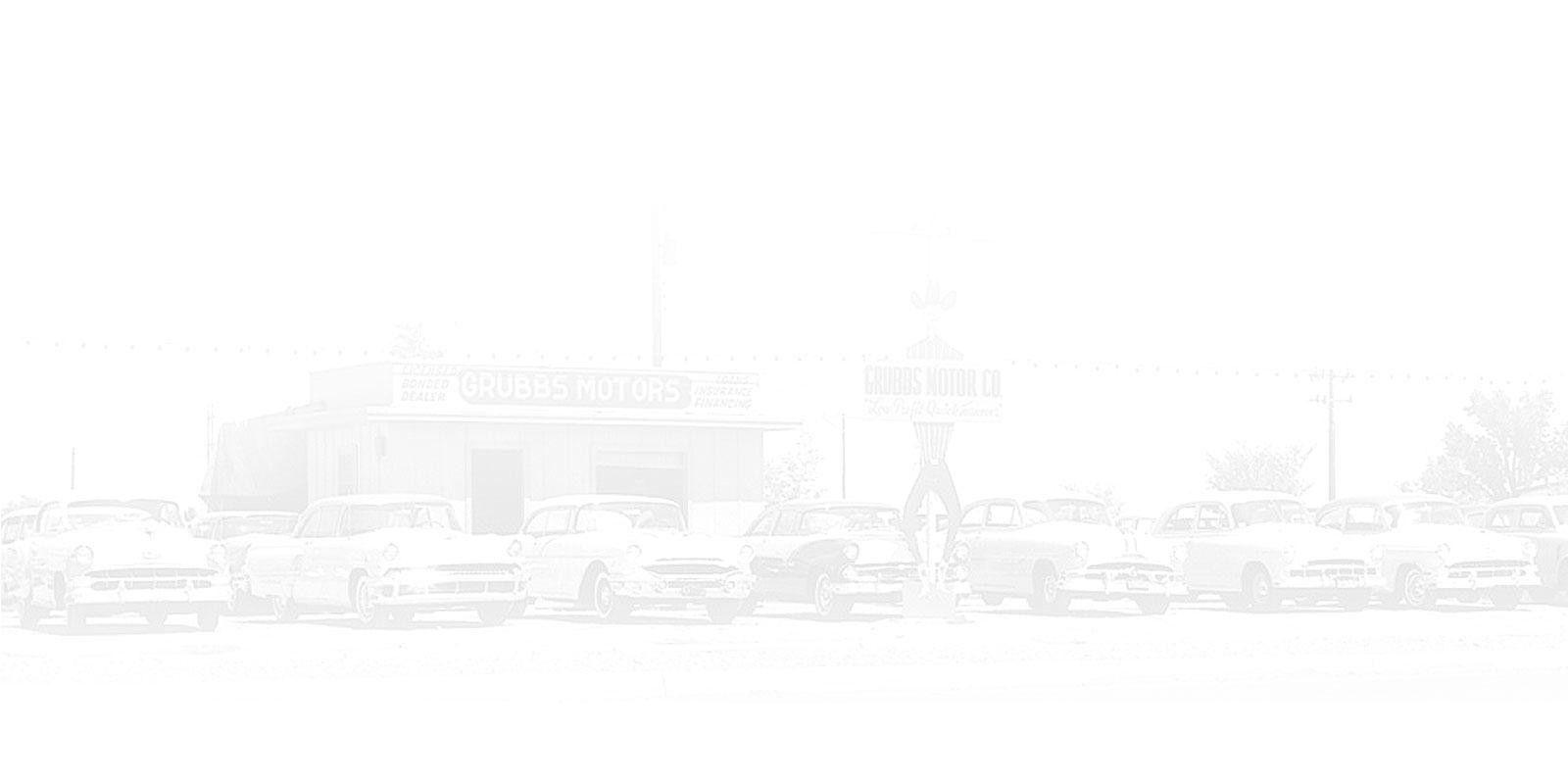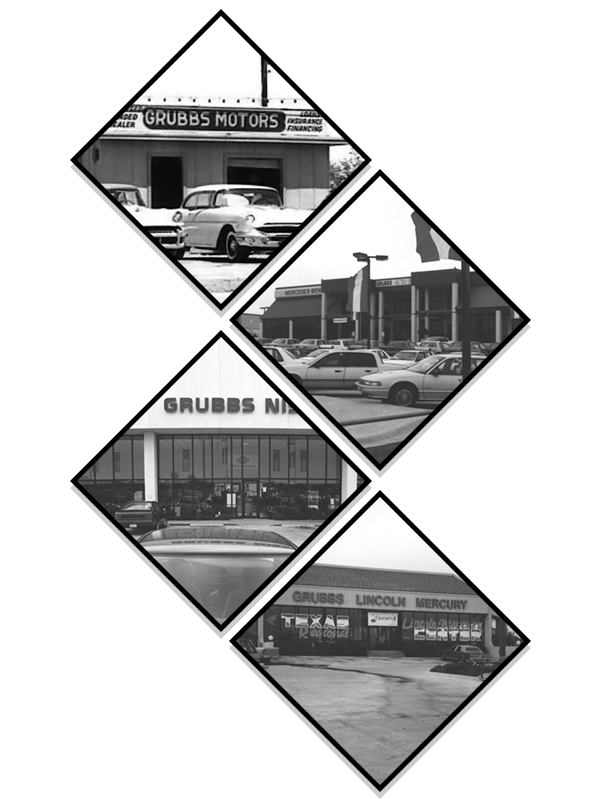 An American Family Legacy
Grubbs Automotive was founded in 1948, in Dallas, Texas by Hubert Grubbs.

And from the word go, we have been committed to treating customers as family members - offering transparency, trust and dependability. We've also understood that while anyone could sell a car, for a dealership to truly stand out from the rest, it is imperative to satisfy the customers' every need.

Fast forward to today, and Grubbs Family of Dealerships proudly continues the tradition of running a "customer-first" business through our family-owned and operated dealerships across Texas.

This "customer-centric" philosophy is embedded into the very fabric of each of our dealerships and embodied by our team members. Walk into any of our Texas dealership locations in Grapevine or San Antonio, and you'll find everything, from the warm and inviting atmosphere to the helpful nature of our team, is designed to uphold the commitment we made in 1948.

Now into its fourth generation, the Grubbs Automotive family has embarked on a journey to diversify the existing bouquet of vehicle brands. Through such strategic initiatives, we hope to continue delighting our customers for years to come.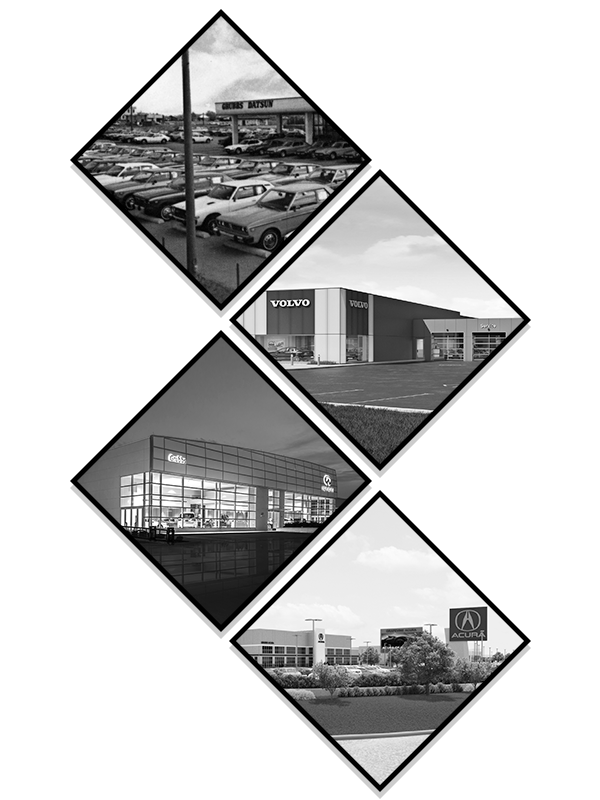 How We Got To Where We Are Today
We've accomplished quite a lot in the last 70+ years, through teamwork and determination characteristic of the Grubbs family.

Journey through our eventful and successful company history - from the first storefront to four full-fledged dealerships and beyond.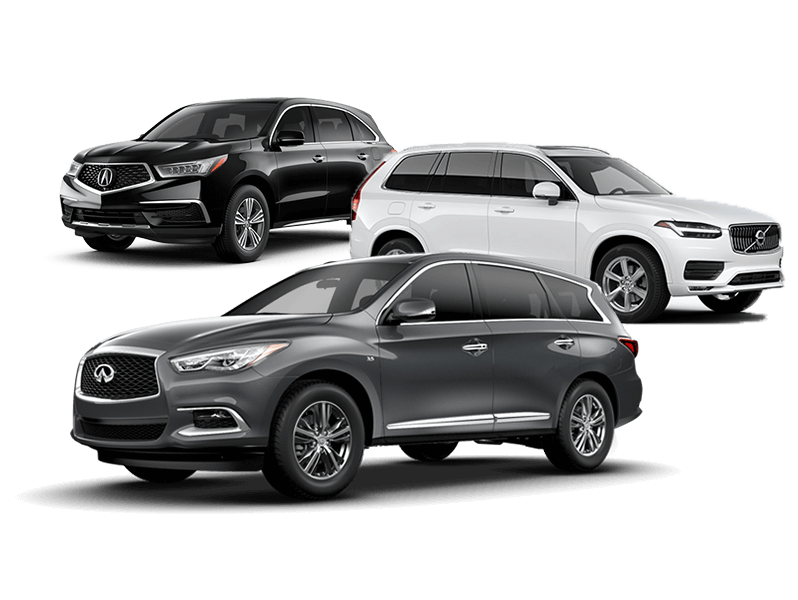 1948
Hubert Grubbs started selling used automobiles, in front of his grocery store in Dallas, Texas. His dream was to build an empire that would, one day, become a force majeure in the auto industry.

1950
Armed with a strong work ethic and perseverance, Hubert went on to set up his first Dodge dealership in Dallas.

1951
SMU alumnus George Grubbs Sr. decided to follow in his father's footsteps. Along with his wife, Jeanne, George moved to Roswell, New Mexico. Here, they set up a used car dealership.

1962
The New Mexico dealership grew into a new VW dealership. And this transition firmly laid the foundation for the Grubbs Automotive brand - complete with our "customer first" tradition.

Bonus Information
George and Jeanne's sons, George Jr. and Eric, literally grew up in the car business during the 50s and 60s. In fact, their first home was a trailer in the parking lot of their parents' dealership. George Jr. and Eric's automotive career began at a very early age and from right at the bottom; washing cars at the dealership. Over the years, George Jr. and Eric worked in every department - holding positions in the service, parts, finance, pre-owned vehicle and new vehicle departments. This got them trained on every aspect of our business and also taught them the value of customer-centricity.

1967
The striking success of our Roswell dealership enabled George Sr. and Jeanne to purchase a larger VW dealership in Waco, Texas.

1971
George Grubbs, Jr. was chosen to open a brand-new Grubbs Automotive dealership in Corpus Christi, Texas. In the same year, our Corpus Christi and Waco dealerships very successfully met customer requirements.

1976
George Sr., Jeanne and George Jr. sold their respective dealerships to become partners in and operate a new dealership in Bedford, Texas. In fact, Grubbs Automotive was chosen amongst many applicants to be the dealer representative.

1980
We had successfully grown in might to rival larger dealerships across America. This was a real milestone in the annals of Grubbs Automotive history. It gave us the confidence to take on larger operations in Dallas and Fort Worth.

1985
We became certified Chrysler and Plymouth dealers in the Bedford location. That same year, we were chosen to open a Lincoln Mercury dealership in Duncanville, Texas. Soon after, we began selling Mazda's to the southern Dallas market. And, in 1999 added Jeep to our bouquet of offerings.

1989
We purchased a large dealership operation in Fort Worth, which retailed Mercedes, Land Rover, Oldsmobile and Nissan. Shortly after that, Grubbs Automotive was cherry-picked to be dealer representative for a brand-new INFINITI franchise, as a charter dealer. This was a big honor, since we were the first INFINITI dealership of its kind in Texas.

1998
George Grubbs Jr. noticed a growing customer demand for the INFINITI brand in Euless, Texas. So, he moved the INFINITI dealership to Euless and sold the other Fort Worth dealerships.

2000
George Grubbs Sr. and Jeanne Grubbs retired. And Eric Grubbs purchased the Nissan/Chrysler/Jeep dealership in Bedford, Texas.

2002
George Grubbs III became a partner at Grubbs Automotive, and four years later took over daily operations of the dealership.

2015
George Grubbs Jr and George Grubbs III moved our INFINITI dealership to Grapevine, Texas. This was heralded as the then largest INFINITI dealership in the United States. Today, it is the flagship dealership for INFINITI, and #1 in sales for both new and used INFINITI vehicles.

2017
George III purchased two existing INFINITI dealerships, one in San Antonio, Texas and another in Hanover, Massachusetts.

2018
George III was awarded Volvo and Acura dealerships in Grapevine, Texas.

2020
2020 was unlike any other. Our teams pulled together made changes to focus on supporting our customers the best we could. That allowed us to come out on top as the #1 INFINITI Dealer in the World.

2021 was a year unlike any other for Grubbs. We opened our new 72,000 SQ FT Acura Dealership in Grapevine TX: opened the New Grubbs Volvo Cars of Central Houston, and Opened the 21st Polestar Space in the United States - Polestar of Grapevine adding our 4th auto Brand. The Grubbs Family of Dealerships has now grown to 6 dealerships and 4 brands.

Today
Till date, we have sold over 200,000 vehicles in the Dallas and Fort Worth area. We have also won multiple awards from manufacturers for excellence in serving our customers and the community.

Our Future
The Grubbs family name has been synonymous with dependable and customized automobile experience for generations. Clearly, from a makeshift used car lot in 1948, we have come a long way.

Taking this heritage forward is Baylor University graduate George III, who currently captains the dealership. Much like his father before him, George III worked in every department of the dealership before assuming operational control of Grubbs Automotive.

In line with the family tradition, George III also has led our team towards numerous award wins for customer satisfaction. And he is committed to carrying forth the family's "customer first" philosophy.

The dream started with Hubert Grubbs, and now continues in the hearts and minds of every one of our business leaders, employees and partners.